Each year the NAHB kicks off its National Green Building Conference with a green-homes tour that showcases the range of sustainable building in the host city. For its upcoming event in Raleigh, N.C., May 16-18, organizers have once again assembled a diverse collection of projects that highlight the myriad ways to address growing demands for efficient, healthy homes.
Most of the houses on the tour boast a style common to the southeast; but underneath traditional façades, these projects—like a rapidly growing number in the region—boast features that save energy, conserve water, and promote healthy living. Attendees will have an opportunity to see how North Carolina builders and remodelers are using design and product choices to build sustainably while still staying true to the area's aesthetic and serving the needs of a broad range of income levels and demographics (most notably, growing ranks of young families drawn by the region's tech firms along with an influx of retirees from the north).
The six-stop tour will take place Sun., May 16, beginning at 8 a.m. Click here for more information and to register.
Here is a preview of each home on the tour:
Stop 1: Affordable Green
This neighborhood includes near-completion and finished workforce housing by Builders of Hope. The non-profit organization is helping to support working families by building safe, affordable, healthy homes while also providing employment, social counseling, and job training to at-risk individuals. These below-market-rate houses boast Energy Star, LEED, and North Carolina HealthyBuilt certifications. Features include spray-foam insulation, WaterSense-certified fixtures, Energy Star-rated appliances and lighting, fiber-cement siding, and sealed crawlspaces and attics.
Stop 2: High-End Urban Green Remodel
BuildSense's renovation in a historic area of Durham involved gutting the 100-year-old home down to the studs and rebuilding the foundation using materials from the deconstruction. The NAHB-Silver home was insulated with spray-foam, as was the crawlspace. In addition to the foundation, the remodeler reclaimed the oak floors and siding, as well as some windows and interior doors. Among the homes highlights are green-certified kitchen cabinets, WaterSense-labeled fixtures, high-performance replacement windows, and exterior doors made with reclaimed wood frames and trim. (See more details on this home here.)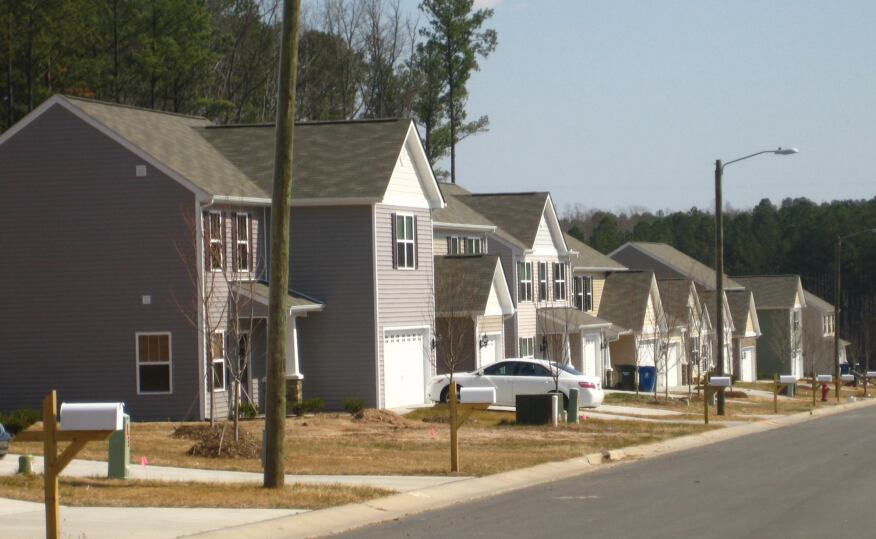 Stop 3: Affordable Green Production Neighborhood
This 2,130-square-foot ANSI-Silver home is one in a neighborhood of sustainably built houses from Cimarron Homes, which boasts the largest number of NAHB green certifications in the region. The company builds all of its homes to green standards, and its core values emphasize value engineering, indoor air quality, energy efficiency, and water conservation to keep costs at market rate. This Energy Star-qualified house includes Energy Star-rated appliances, Green Label-certified carpet, low-E windows, WaterSense-approved fixtures, and low-VOC paint, among other features. (See more details on this home here.)
Stop 4: Side-by-Side Healthy Homes
This duo was built by M Squared Builders, an American Lung Association Healthy House builder. The newer of the two houses boasts a HERS rating of 54 and ANSI-Gold certification, and it features geothermal, insulated structural sheathing, spray-foam insulation, reflective roofing shingles, and on-demand water heating. The older house has a HERS rating of 79 and NAHB-Gold certification. Among its features are an EPA-approved wood-burning fireplace, sustainable cabinetry, and aging-in-place details. (See more details on this home here.)
Stop 5: Luxury Green
This rustic luxury home from Chandler Design-Build is replete with green features, including solar water heating, 15-SEER zoned heating and air conditioning, spray-foam insulation for the roof and rim joists, an ICF foundation, and low-E windows with self-cleaning glass. Lending to the home's one-of-a-kind feel are reclaimed poplar-bark shingles, reclaimed heart pine flooring and timbers, locally sourced yellow pine for the ceiling and trim, and a number of aging-in-place details. (See more details on this home here.)
Stop 6: Luxury Green
Eco Building Group's custom Craftsman-style house near downtown Raleigh carries NAHB-Silver certification and a HERS rating of 67. The builder emphasized interplay with the outdoors, including a large screened porch with separate grilling deck and a large patio with waterfall feature. The home's sustainable features include a 16-SEER heat pump, on-demand water heaters, spray-foam insulation, WaterSense fixtures, and an 1,100-gallon rainwater collection system with wireless fill-level monitor.