FROM THE AIA:
With the goals of supporting the revitalization efforts of downtown San Antonio and minimizing negative environmental impact, the design team transformed the 1917 plumbing warehouse into an innovative design studio. Interventions were left light in order to maximize flexibility for future users, and materials repurposed wherever possible. Sophisticated automated systems that optimize the building's performance, combined with a 65kW solar panel array on an insulated cool roof, resulted in a 73% reduction in energy usage compared to the national average. A newly inserted courtyard provides ample daylighting to interior spaces and has become a hub of activity within the community.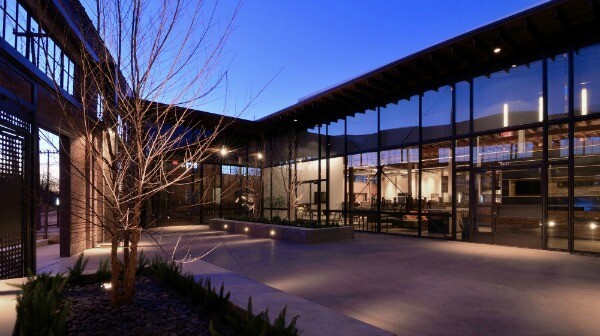 Architect(s): Overland Partners Architects
Project Type: Office – 10,001 to 100,000 sq. ft.
Project Category:Adaptive Reuse
Project Site: Previously Developed Land
Completion Date: December 2012
Project Size: 26,000 sq. ft.
Project Cost:$1.8 Million
Location: San Antonio, Texas
JURY COMMENTS:
A very successful example of a creative, low-cost adaptive reuse project that maintains the integrity and the character of the building. Introduction of contemporary structural, electrical, and mechanical systems was done in such a way as to not detract from the historic elements of the building. The outside spaces were integrated well with surrounding areas as well as the building itself. This proves that making use of a high percentage of reused and repurposed materials can be done creatively and affordably.
BY THE NUMBERS:
Estimated % of occupants using public transit/cycling/walking: 15%

Daylighting at levels that allow lights to be off before nightfall: 90%




Lighting power density (watts per square-foot): 0.85 watts/sf

Outdoor views: 98%

Reduction of regulated potable water: 34%

Total EUI (kBtu per square-foot per year): 44

Net EUI (kBtu per square-foot per year): 24


Percent Reduction from National Median EUI for Building Type: 73%
View in the ARCHITECT project gallery >>