FROM THE AIA:
The Bullitt Center is a high performance urban office building demonstrating a commercially-viable structure with essentially no environmental footprint is possible; it is the largest certified Living Building. Performance metrics drove building design every material and system in the self-sustaining six-story, 52,000sf office building was evaluated toward the goal of net zero energy, water and waste—resulting in an unprecedented EUI of 10kbtu/sf/yr. Sustainable design moves responding to regional context include operable floor-to-ceiling windows for daylight and fresh air, heavy-timber framing, a transparent 'irresistible stair' with dramatic views, and overhanging roof characteristic of Northwest design vernacular. A new paradigm for design, the building serves as a living laboratory for high-performance architecture and sustainability education seeking to influence the way society views the relationship of a building to its environment.
Architect(s): The Miller Hull Partnership
Project Type: Office – 10,001 to 100,000 sq. ft.
Project Category: New Construction
Project Site: Previously Developed Land
Completion Date: April 2013
Project Cost: $27 million
Project Size: 52,000 sq. ft.
Location: Seattle, Wash.
JURY COMMENTS:
This building sets a new threshold for environmental design in a multi-story office building. The designers have created a demonstration that a six-story building can achieve net-zero energy with a low life-cycle impact. There is was a rigorous material assessment and careful attention to water collection and use. It is a good "urban citizen"; the building addresses the sidewalk. It invites visitors and the project included the restoration of a public park adjacent to the building. The sustainable strategies were clearly synthesized. The interiors are inviting and warm. If a net-zero office building can be built in Seattle, one of America's cloudiest cities, then one can be built anywhere in the nation.
BY THE NUMBERS:
Estimated % of occupants using public transit/cycling/walking: 75%

Daylighting at levels that allow lights to be off before nightfall: 82%

Lighting power density (watts per square-foot): 0.40 watts/sf

Outdoor views: 100%

Reduction of regulated potable water: 48%

Total EUI (kBtu per square-foot per year): 12

Net EUI (kBtu per square-foot per year): 0

Percent Reduction from National Median EUI for Building Type: 83%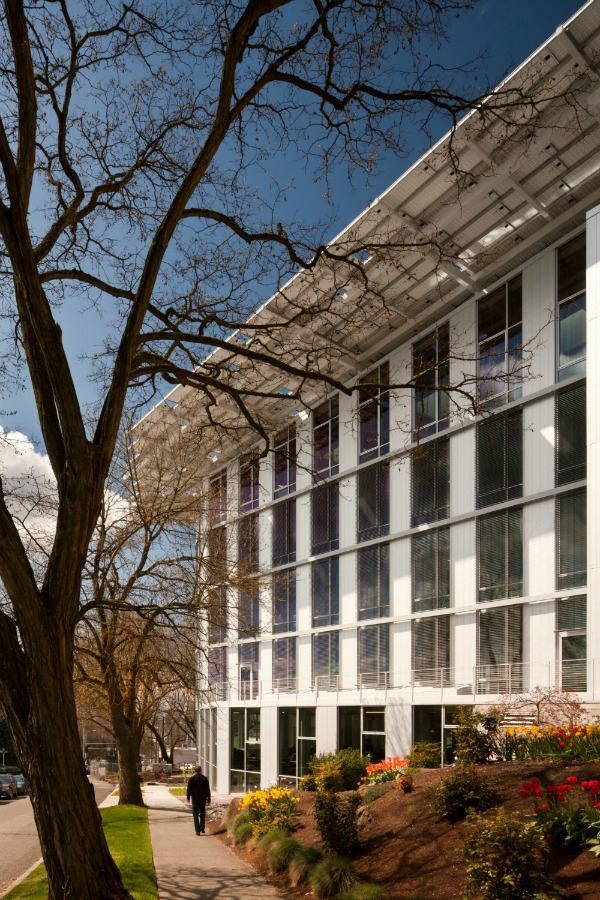 View in the ARCHITECT project gallery >>