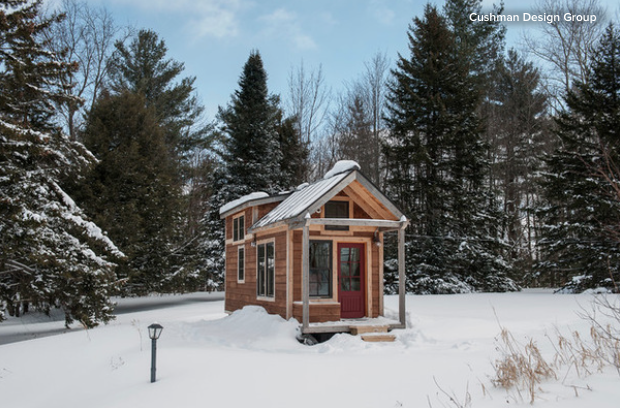 Ethan Waldman wanted to escape his desk job and start his own business, but understood that meant downsizing expenses. Waldman took downsizing even more literally, building a 200 square-foot tiny home in the mountains of Vermont for under $50,000 and about $100 per month in utilities.
The tiny house only cost about $12,000 in labor and $30,000 in materials, but that packed in plenty of sustainable features. Aside from low heating and cooling needs and electricity that only requires hook-up to a neighboring home, there is also a composting toilet. Instead of a typical flush mechanism, saw dust is added to waste and combined with food scraps to a compost pile about 100 feet from the home. The shower is made from copper shingles, avoiding plastic and maintaining sturdiness necessary to move the home, which is built on a trailer be legally classified as a mobile home in the state of Vermont. The minimal storage keeps Waldman from amassing unnecessary stuff. Included in the limited space is a half-sized fridge, which keeps Waldman from purchasing necessary or frozen food and instead sticking mostly to fresh produce.
Even though this tiny house is surrounded by mountains, it's only a few minutes from town and sit on Waldman's cousins property. Like many tiny house owners, Waldman pays his "rent" for parking on the lot by keeping the lawn and snow removal maintained.
Waldman did start his own business in tech consulting, and writes of his love of tiny house living in his recent book titled Tiny House Decisions.
Read more about the tiny abode on Houzz.