There are currently 6 million properties in the United Kingdom at risk of flooding, but to ameliorate this risk, developers are building homes in low laying land adjacent to bodies of water at almost double the rate of building outside these zones, according to The Guardian. This past December was the wettest on record, with a trio of storms causing over $8 billion in damage, and yet, few efforts have been made to build flood–proof homes until now.
Robert Barker and Richard Coutts, founders of Baca Architects in London, recently finished an amphibious home on an island in the River Thames, near Marlow in Buckinghamshire. As the first in the country, the home is designed to float when water levels rise to prevent flood damage.
Similar to a ship hull, the base of the home sits in a wet dock, constructed of permeable concrete so that incoming water forces the home to float upwards. Four fixed, eight-foot-tall steel poles, which are well above the area's projected flood levels, guide the responsive house. As an early warning system, the multilevel terrace progressively submerges as water rises.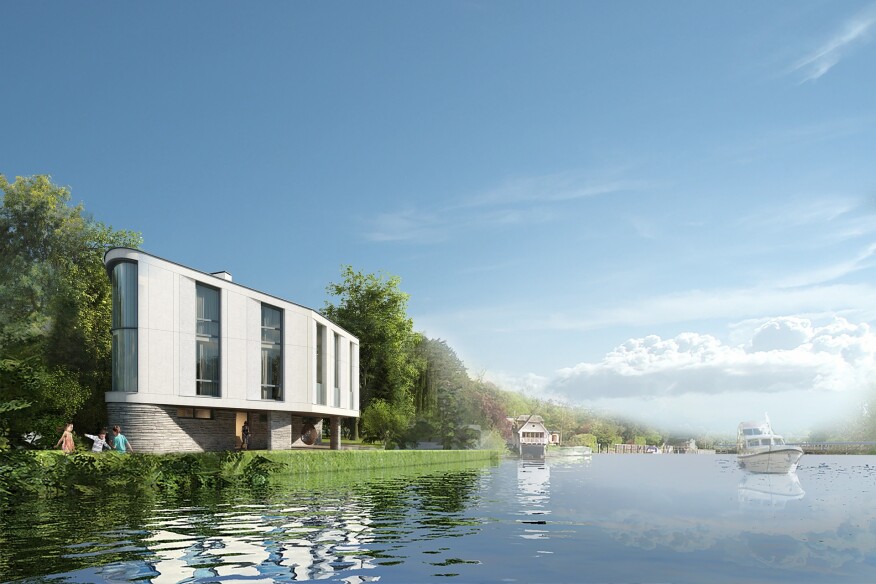 Conventional wisdom has always been about running away from water and building big barriers to defend against the risk of flooding. But with rising sea levels and increasing flood risk, we're going to have to learn to embrace water and use it to our advantage.
The homes cost about 20% more than conventional models, but, despite this, the firm already plans to expand the strategies to a bigger scale. So far, the designers have secured planning permissions to build a second iteration of the adaptive home farther up the River Thames, and another master plan includes 670 homes on a 46-acre site in Norwich—a wetland that has remained uninhabited for 25 years.
For a country that was developed around rivers, canals, and docks, the buoyed home offers a unique solution to an area susceptible to high flood levels. With this in mind, residents get to enjoy their waterfront living, even as it attempts to encroach on their territory.
To read more about the homes, visit The Guardian.
For more coverage, visit Custom Home.