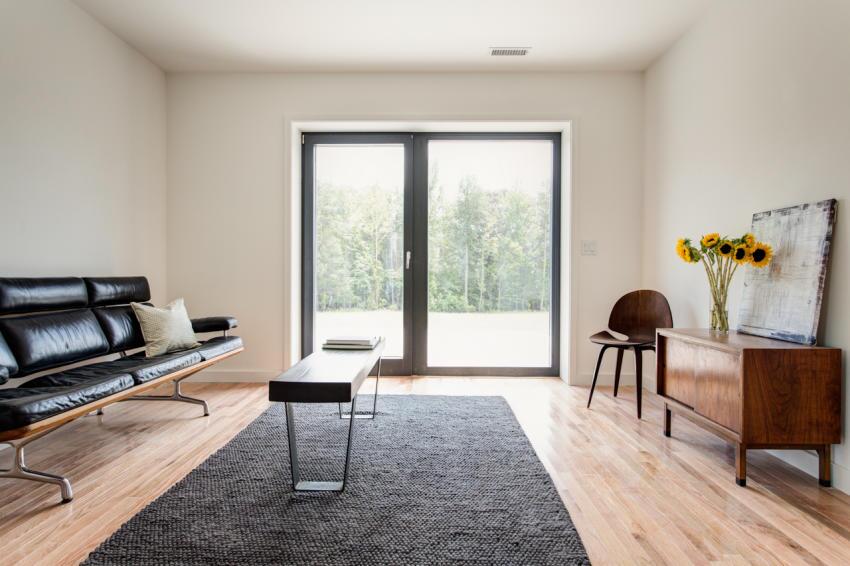 ARCHITECT's R+D Awards program celebrates innovation in architecture and design. Learn more and enter today. This piece is part of a series of articles that will examine the progress made by past award winners.
Modular, affordable, and high-performing. This was the criteria that John Quale, Assoc. AIA, then an associate professor of architecture at the University of Virginia (UVa), set out to achieve with his prefabricated housing unit EcoMod. The idea caught the attention of ARCHITECT's 2013 R+D Awards jury, which lauded EcoMod's potential to provide sustainable housing and employment opportunities in economically depressed communities.
Read more about the project's beginnings on ARCHITECT.
When EcoMod won the R+D Award, Quale and his team of UVa students and Virginia nonprofit organizations had just completed three units. One unit is located in Abingdon, Va. and two neighboring units are in South Boston, Va., dubbed the EcoMod South models, the Abingdon unit and one of the South Boston units were built to and, soon after, achieved Passive House Institute U.S. (PHIUS) certification. The third unit, in South Boston, serves as an experimental control, of sorts, as it was built to meet code only. The PHIUS-certified units were built for $105 per square foot, while standard unit cost $70 per square foot. Quale wanted to determine the return on investment of using energy-efficient building components in affordable housing by monitoring the thermal and energy performance of all three units during occupancy.
Nearly two years after covering the project, ARCHITECT wondered: Is EcoMod still on track?
The proof of concept for EcoMod is ongoing, Quale says. Since the project's inception, he has moved across the country to become the director and professor of architecture at the School of Architecture and Planning at the University of New Mexico (UNM), but Quale still tracks the performance each one of the currently occupied EcoMod units. After another few seasons of monitoring, he hopes to have enough data to publish "a paper on the advantages and disadvantages of low-cost Passive House standard homes for affordable housing," he says. Because of the significant price difference between the energy efficient EcoMod South units and the control, he wants to analyze the life-cycle cost and environmental impact for the homes.
Meanwhile, UNM and UVa are working on an agreement on intellectual property that will allow Quale to transfer the EcoMod concept to New Mexico. Quale is teaching his first class at UNM on EcoMod, which has been embraced by the university and the local community. His class was over-enrolled, and the construction director of the Greater Albuquerque (N.M.) Habitat for Humanity sought him out to discuss a partnership. "It looks like our first prefab/modular design in New Mexico will be for Habitat, starting in the 2015-16 academic year," Quale says. "My new team and I are starting to look for funders and a space to build the modular units."
Quale is also in discussion with an affordable housing developer and local government outside of London to build up to 200 units that follow the EcoMod South design for a low-income community along the Thames River. Together, they have modified the model to meet the U.K.'s building standards, while maintaining its design and performance qualities.
Another objective of EcoMod is housing rehabilitation, Quale says. "I always want to balance prefab and rehab." He anticipates beginning a rehabilitation project in Barelas, a traditionally Hispanic neighborhood south of downtown Albuquerque. "We'll be working with a local organization that is trying to help homeowners remain in the neighborhood, and improve the living conditions," he says.
In short, Quale and EcoMod are still on the winding, but promising, path to quantify whether high-performance housing is accessible and attainable in neighborhoods around the world. This commitment to venture into unproven ground is one of many reasons EcoMod received a R+D Award.
And, incidentally, Quale and his family are loving New Mexico.
Read an update on 2014 R+D Award winner Archolab and their Afterhouse project in Detroit.

Do you have an innovative architectural design, product, or research investigation? Enter our R+D Awards today and find more stories like this on ARCHITECT.