The walls, floors, and ceilings may be integral to a project's interior, but not often are they given the chance to shine all on their own. This week, we're showcasing products that improve the aesthetics and sustainability of the otherwise-mundane applications with vibrant colors, natural light, and green materials.
Traullit, Baux
Form Us With Love is known for its hexagonal wall tiles, which the Swedish studio says are made of low-emitting, recyclable wood-wool cement, absorb sound, and help regulate indoor humidity levels. Now, the team is ramping up its product design efforts by founding Baux, a practice that aims to give standard building materials an aesthetic boost. It's first is the expansion of its tile line, Traullit, to include additional geometric shapes such as parallelograms (shown), circles, and rectangles that can be mixed and matched on the walls and ceiling. h/t: Dezeen
BuzziFrontDesk, BuzziSpace
Critics of open-plan spaces cite a lack of privacy and the tendancy for clutter to spread as downsides to the increasingly popular layout. From office furniture manufacturer BuzziSpace, BuzziFrontDesk panels attach to the front or sides of desks to hide items such as cords and coffee cups while also helping to buffer sound. Made of cardboard and poplar that is covered in the company's proprietary felt, which is made entirely of upcycled plastic bottles.
Keralite, Vetrotech
Bring natural light deeper into building interiors with a fire-rated, glass-ceramic lite whose visibility compares with float glass. From glass manufacturer Vetrotech, Keralite Select has a color rendering index of 97.1 and a haze value of 0.5% thanks to proprietary polishing technology that limits the tint standard to glass ceramics' surfaces. Designed to be specified in large sheets for high-traffic areas such as hallways and conference rooms, it installs in conventional fire-rated window and door frames and is available with a 20-, 45-, 60-, 90-, or 180-minute fire-rating.
Butterfly Effect, Patcraft
Designed by William McDonough, FAIA, and carpet maker Patcraft, Butterfly Effect is a series of modular carpet tiles that pairs environmental sustainability with social enterprise. The product is made of solution-dyed, stain-repellant nylon fibers and is Cradle to Cradle certified, a product standard co-developed by McDonough. Additionally, the manufacturer diverts 2% of the proceeds from the flooring's sale to fund pediatric cancer research at St. Jude Children's Research Hospital in Memphis, Tenn. Three patterns are offered (Dart, shown).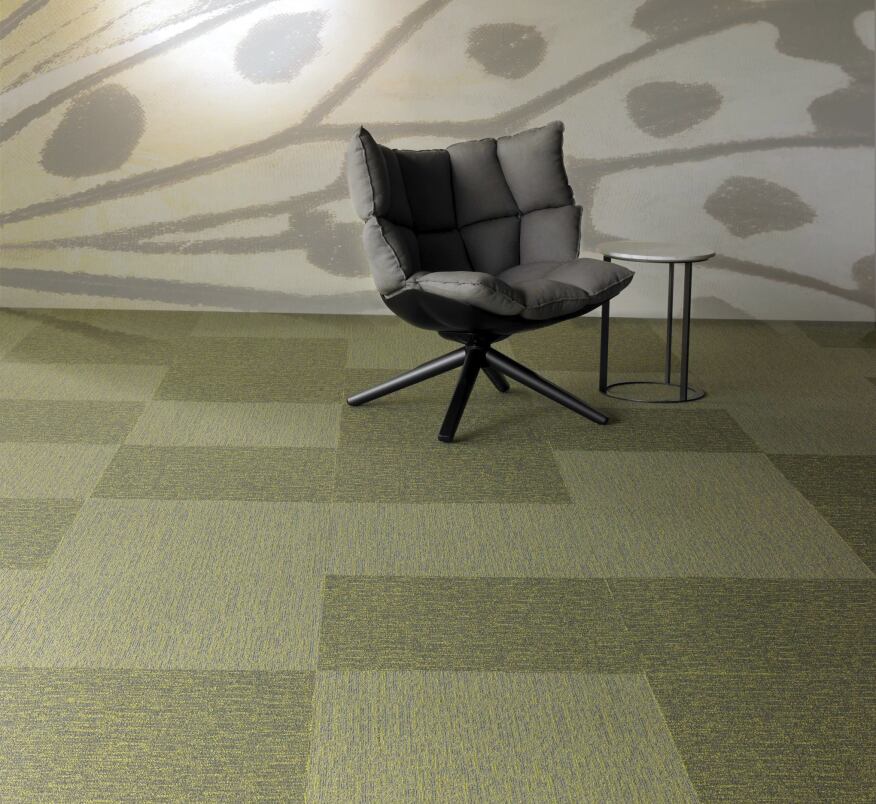 Fabric Ducting and Diffusers, Prihoda Recycled
When seeking to increase the recycled content of finishes used in a space, designers can look to the HVAC components in the ceiling. Made from 100% post-consumer recycled content derived from plastic bottles, the flame-retardant and antimicrobial fabric ducting and diffusers from Prihoda are designed for interiors with exposed ceilings. The company uses global textile manufacturer Unifi's Repreve recycled fibers in the fabric duct, which features an open structure with micro-perforations to limit dust buildup and improves fan efficiency.