Sustainable spaces vary in size and use. As a result, they require designers to implement different products and systems to achieve energy-efficient illumination. This week's roundup highlights luminaires that address the illumination requirements of applications ranging from expansive, open-plan offices to small apartments, including a sleek task lamp with integrated motion and daylight sensors, LED downlights, and a biodegradable composite that can be molded into design pieces such as lampshades.

SlimStyle A Shape, Philips
Incandescents of the 40W and 60W variety get the boot this year, forcing otherwise reluctant consumers who want to keep their traditional lights into the market for greener options such as LEDs. SlimStyle A Shape from Philips emulates the look of an incandescent from the front, but features a slender profile that conceals LEDs. The dimmable lamp is offered in 7W, 8W, or 10.5W versions to replace 40W or 60W incandescents, and provides 360 degrees of soft white or daylight-colored illumination. With an estimated life of 22.8 years, the lamp offsets its higher price relative to incandescents with fewer trips to the store for replacement bulbs.
Kelvin Green Mode II, Antonio Citterio for Flos
With an adjustable head and double-pantograph arm, the Kelvin Green Mode II task lamp by Antonio Citterio for Flos provides direct lighting for large work surfaces. An integrated daylight sensor adjusts illumination based on the amount of ambient light present in the space, while an integrated motion sensor activates standby mode after five minutes of inactivity and turns the fixture off after two hours of no movement. Designed for use indoors, the fixture is fitted with 30 LEDs at a combined color temperature of 3000K.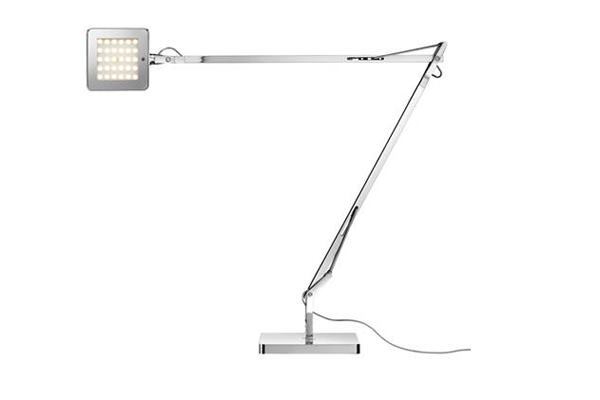 Switch Infinia, Switch Lighting
In an effort to lower the cost of LED lamps, Switch Lighting designed a liquid-cooled alternative to 40W and 60W incandescents. Switch Infinia is offered in a 2700K color temperature and has an average life of 22.5 years. A proprietary cooling system uses non-toxic liquid silicone and an electronic driver to cool LEDs more efficiently than air-cooled models. The dimmable, A-shape lamp turns on instantly and was an Innovations Design and Engineering Awards honoree in the Eco Design and Sustainable Technologies product category at this year's Consumer Electronics Show. The Energy Star-rated lamps retail for as low as $3.99 in markets that offer utility rebates
Impasto, Steenfatt
No, this isn't a high school science project run amuck. Nikolaj Steenfatt, a design student at the Royal Danish Academy of Fine Arts' School of Design, combined sawdust and used coffee grounds into a dough that can be pressed and vacuum-shaped into furnishings. He mixes the biodegradable composite, which he named Impasto, with a pigment for color. To date, Steenfatt has used the material in a collection of unique design pieces including lampshades and chair cushions and seat backs. Watch Steenfatt's fabrication process.
Finire Xicato LED Modules, Lutron
Lutron is synchronizing LED fixtures, drivers, and controls in its latest alternative to can lights for recessed lighting applications. The Finiré by Ivalo LED Recessed Lighting incorporates Xicato-brand LED modules in a 4"-deep downlight. Designed for use in residential and commercial applications, the dimmable modules are available with 2700K, 3000K, and 3500K color temperatures and a color rendering index of either 83 or 95. The fixture's field-adjustable beam spread can accomodate applications such as directional lighting in spaces with high ceilings, and spot and task lighting. Available in round, square, trimmed, and trimless designs.
Bio Mass Pendant Light, Jay Watson Design
The coarse elements of nature and manmade technology's refined composition come together in this pendant made of locally sourced ash branches from U.K.-based designer Jay Watson. The Bio Mass Pendant Light comprises a hollowed-out ash tree branch that retains its bark and is fitted with an LED with a color temperature of 2700K and a color rendering index of 90. Each 3cm- to 4cm-long unit is suspended from a red, braided cable. The pendants can be installed alone or in groups.
BR40 LED Lamp, Toshiba
While new construction has the opportunity to marry aesthetics and energy efficiency from the start, designers charged with making existing spaces more sustainable must do so without sacrificing looks—including the quality of illumination. Toshiba designed an LED lamp for recessed downlights and pendant applications to replace 90W incandescents. As part of the company's BR40 series, the dimmable lamp is offered in 2700K and 4000K color temperatures and uses up to 79% less energy to power than incandescents, according to Toshiba.