Kohler. The manufacturer's latest toilet technology is the new precision-engineered Class Six flushing. The unit optimizes the power of jet action to remove bulk waste with 100% of the flushing water being fed through the rim, blending bulk removal and bowl washing. The technology is available as 1.6 gallons per flush or high efficiency 1.28 gpf. 800.456.4537. www.kohler.com.
---
KlipTech. Featured on Builder's LivingHome, EcoClad exterior cladding is made with a 50/50 blend of FSC-certified post-consumer recycled paper/wood fiber along with bamboo fiber, bonded with a water-based co-polymer resin. According to the firm, the cladding offers durability comparable to metal, brick, and stucco. The 4x8 panels come in 10 stock wood-grains and five stock matte colors, or in custom colors, and they will not fade. 253.507.4622. http://kliptech.com.
---
Whirlpool. The Resource Saver refrigerator uses the same energy as a 60-watt bulb. The refrigerator automatically adjusts cooling to bring food to the desired temperature, and then returns to normal operating temperatures. The ice dispenser and removable collection bin are located in the freezer door to increase storage space. 269.923.5000. www.whirlpool.com.
---
Everpure. The ViruPure commercial-grade residential point-of-use water filtration system filters out 99% of bacteria, viruses, and cysts down to 0.019 micron, as well as reducing VOCs, THMs, MTBEs, chlorine, chloramines, and lead. The system, which mounts under the sink, has a 500-gallon capacity, which lasts a family of four about a year. 800.323.7873. www.everpure.com.
---
Icynene. The company's new LD-R-50 spray-foam insulation has earned the U.S. Department of Agriculture's BioPreferred status for use of rapidly renewable materials. The insulation is made using castor oil, a natural product that is extracted from the castor plant. The product is water-blown and free of HFCs and PBDEs. 800.758.7325. www.icynene.com.
---
Vantage. The maker's new energy management system provides real-time information on home energy usage. In addition, the unit can offer homeowners ways to reduce energy use and can predict how much money users will save if they implement the strategies. For example, the system can estimate how much money a home will save by setting the house to use occupancy sensors for lights and heat. 800.555.9891. www.vantagecontrols.com.
---
Lennox. A first in the industry, SunSource integrates solar power into a heat pump. The 18.5-SEER solar-assisted heat pump features a 3-foot-by-5-foot 190-watt solar panel that provides power assistance to the fan motor, providing energy savings of 8% to 10%. 800.953.6669. www.lennox.com.
---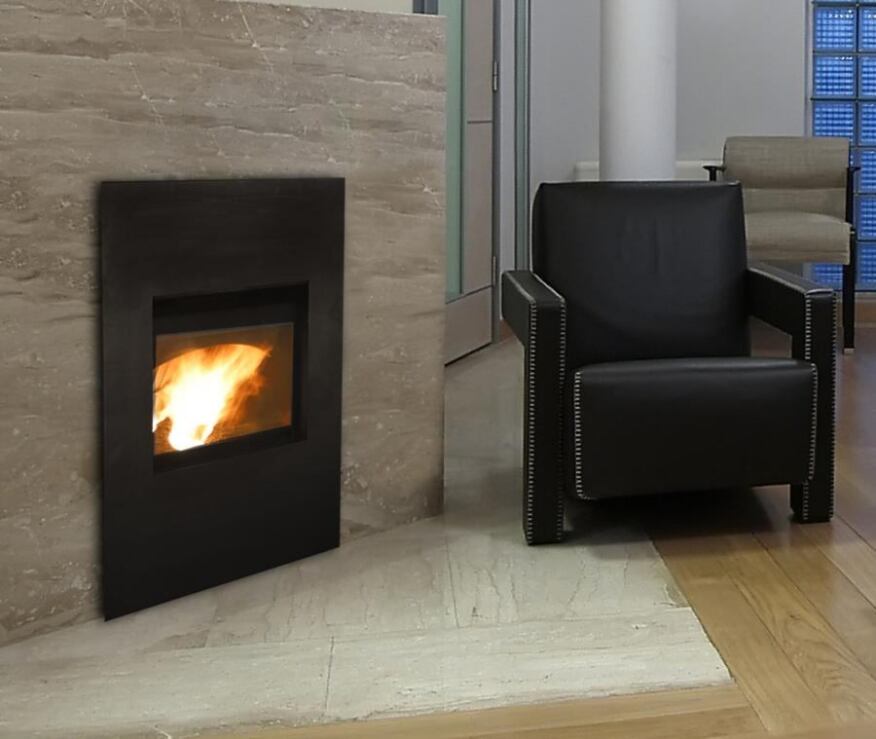 Quadra -Fire. Debuting at IBS, but rolling out in the second quarter, the Edge 60 is the first-ever pellet fireplace. Specifically designed for supplemental home heating, the Edge 60 delivers 60,000 BTUs and can warm more than 2,500 square feet of living space. Advanced Energy multi-fuel pellet technology allows homeowners to choose fuel options ranging from wood and grass pellets to corn and wheat. The unit's programmable wall control and thermostat help regulate heat output to achieve optimum fuel efficiency. Four front options are available in a variety of finishes, including brushed nickel and oiled bronze. 800.926.4356. www.quadrafire.com.
---
Crossville. Echo glass tiles are made from post-industrial recycled content that ranges from 10% to 100% depending on color. Ideal for walls, countertops, and floors, the tiles are made from centuries-old techniques where the product is cast from translucent glass that is textured on the front and back. It's available in 15 colors, three finishes, and five sizes. 800.221.9093. www.crossvilleinc.com.
---
Tonusa. The cabinet manufacturer has teamed up with esteemed designer Fu-Tung Cheng to create elements, a contemporary line of cabinets that offer elevated design at a moderate price. Designed to evoke warm modernism, the line includes a variety of luxurious and sustainable materials such as Forest Stewardship Council-certified Plyboo bamboo doors, 3-Form resin sliding panels, and recycled aluminum cabinet boxes. The series offers flexible component layout, integrated accessories, and soft-close hinges and door runners. 626.961.8700. www.tonusa.com.