Despite the cloud hanging over this year's International Builders' Show—a dramatic difference from the record crowds just two years ago—there will still be plenty of manufacturers on hand exhibiting a range of great new products. Not surprising, many of those products are green. Here's a look at a few of the products that will be on display in Vegas. And check back next week for product coverage straight from the show floor.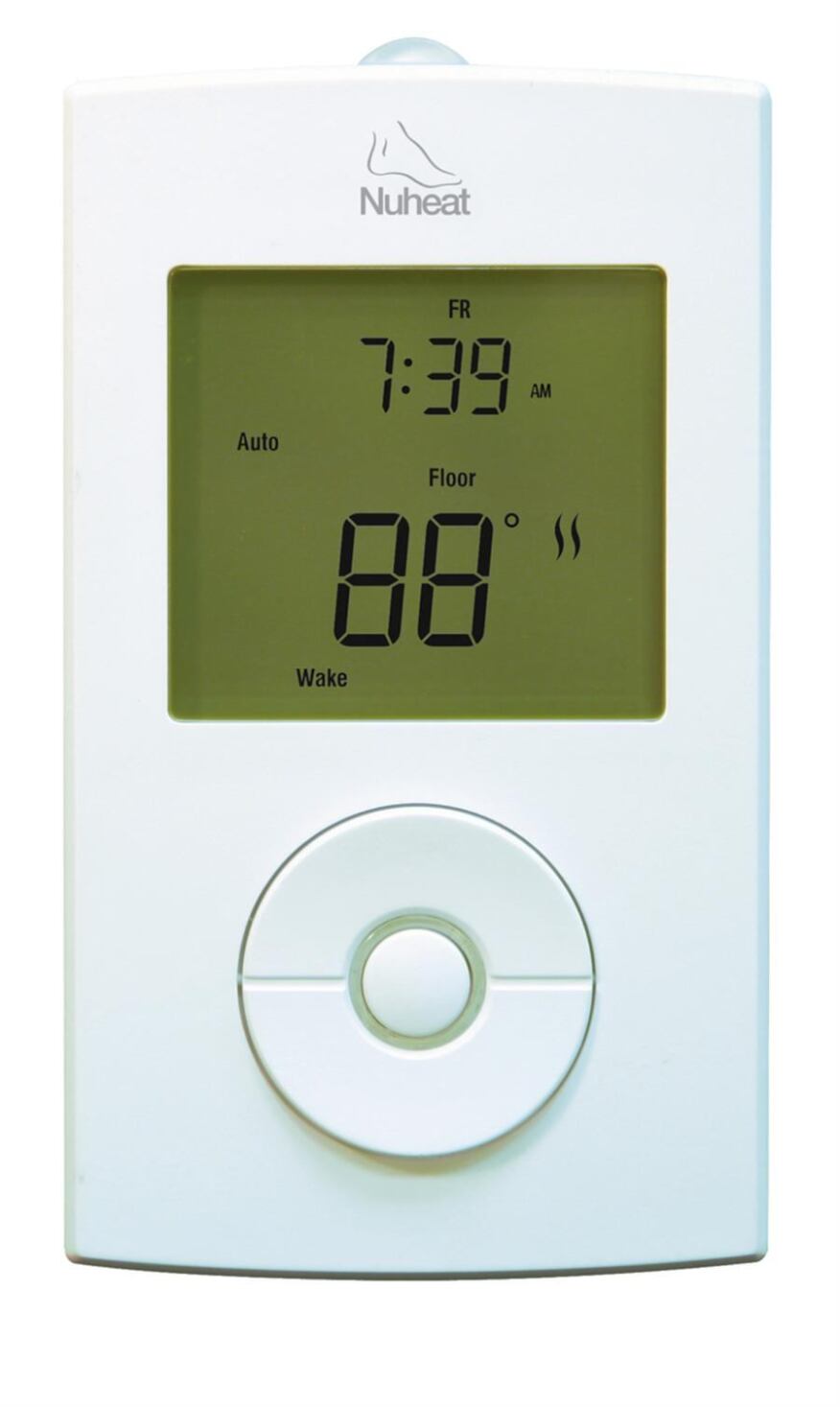 Nuheat. Homeowners can easily control their Nuheat floor-warming systems with the new Energy Star-rated Solo programmable thermostat. The dual-voltage (120v and 240v) unit features seven-day programmability and can link to other heating zones within the home and to external temperature sensors for a one-stop location of temperature and information control. A simple three-button design, full menu screen, and Web-based tutorial make programming easy. 800.778.9276. www.nuheat.com.
---
Andersen. Made for builders in the West, the 100 series product line is certified by Scientific Certification Systems for having a minimum of 40 percent pre-consumer recycled content by weight and for not releasing VOCs. The window is made from Fibrex, a blend of sawdust and polymer. The series is available with 50 glass options, including low-E and dual-pane. 800.426.4261. www.andersenwindows.com.
---
Cooper Lighting. LED recessed lights are now available in the Halo downlighting product line. The product has a warm white color temperature, fits into existing Halo and All-Pro housings, and exceeds California's Title 24 requirements. It provides 50,000 hours of life, the manufacturer says. 770.486.4800. www.cooperlighting.com.
---
EnerWorks. The company has added two new controls to its solar water heating appliance. The Thermal Energy Controller mounts to the storage tank, directs the appliance, and enables secondary applications like pool or space heating. The wireless Thermal Energy Monitor mounts inside the home, communicates with the controller, and, through displays, shows daily, monthly, annual, and lifetime dollar savings. 519.268.6500. www.enerworks.com.
---
Owens Corning. Solace windows are constructed of fiberglass-reinforced vinyl. Designed for the replacement and remodeling markets, windows in the Solace line exceed Energy Star requirements in all climate zones, and feature overall U-factors as low as 0.15. Options include 17 color combinations, designer glass, between-the-glass blinds, and simulated divided lites. 800.438.7465. www.solacewindows.com.
---
ECR. The Freewatt Energy Star-rated home heating system combines a high-efficiency natural gas furnace or boiler with a Honda generator. Electricity generated from the system can power a home or be sold back to the grid. The savings created by using Freewatt for one year is equal to not driving your car for six months, the maker says. 888.800.1551. www.freewatt.com.
---
Carlisle Residential.
ENBase rigid roof insulation is composed of a closed-cell foam core bonded to OSB, combining
insulation
with a nailable surface. The product also eliminates excessive water migration that may damage roofing systems, the manufacturer says. It comes in various sizes and thicknesses and can be used with a variety of roofing systems. 800.211.7170.
www.carlisleresidential.com
.
---
Progress Lighting. Originally introduced as an incandescent product line, the Westin collection is now an indoor CFL lighting family. The line features arching rectangular arms with strap accents and etched glass. The lights are available in brushed nickel and antique bronze finishes, and include close-to-ceiling; one-, two-, three-, and four-light bath and vanity selections; one-, three-, and five-light hall and foyer fixtures; and chandelier and pendant options. The 15-watt fixtures are Energy Star qualified and have a 10,000-hour life, the maker says. 864.678.1000. www.progresslighting.com.
---
Premier Building Systems. Zero-VOC Mastic can be used in lieu of the maker's traditional mastic when installing its structural insulated panels. Zero-VOC Mastic consists of polymers designed to remain flexible yet provide a tight seal that eliminates water vapor and air infiltration; it resists moisture, dampness, and temperature fluctuations. The mastic is available in 20-ounce sausage packs, which are smaller than traditional mastic packaging and, when empty, compress down to a small puck to reduce jobsite waste. 800.275.7086. www.pbssips.com.
---
ODL. The solar-powered dimmer for the manufacturer's Energy Star-qualified tubular skylight allows users to control the amount of light entering through the skylight and does not require hard-wiring. The solar panel charges four AA NiMH batteries that power a three-button control that operates the dimmer. The control also serves as a two-LED nightlight. 800.635.4968. www.odl.com.
---
Overhead Door. The Verde collection of garage doors for the EcoBuilt product line comes in Yosemite, Acadia, Presidio, and Tahoe styles. The doors feature steel integrated meeting rails and can be purchased with or without insulation. EcoBuilt garage door panels come ready to paint and are SCS-certified to use a minimum of 88 percent recycled content. 800.275.3290. www.overheaddoor.com.
---
Lutron Electronics. The Hi-lume LED Driver is a high-performance, universal voltage product that provides energy-efficient dimming from 100% to 1%. It offers a product lifetime of 50,000 hours (about 10 years) and is compatible with a variety of control options. Other features include thermal management to reduce light and power when operating in excessive temperatures and a 25-watt maximum driver rating. 888.588.7661. www.lutron.com.
---
Lumber Liquidators. The two new products in the Morning Star brand continue a trend toward more colors and finishes in bamboo flooring. Shown here in a whitewash color, Tai Shan Mist measures 5/8 inch thick by 3 3/4 inches wide. The 38-inch-long planks can be nailed down or glued in place. Qing Dragon stained strand is also available. 800.356.6746. www.lumberliquidators.com.
---
Protecto Wrap. A pre-laminated air barrier panel system for exterior waterproofing and weatherproofing, factory-assembled Protecto Shield Air Vapor Moisture sheathing marries a 4-foot-by-8-foot panel of DensGlass Gold with 40-mil-thick self-adhering butyl hybrid waterproofing membrane and a white tri-layered laminate HDPE facer. The combination product allows installers to work more quickly and often with a smaller crew, the maker says. 800.759.9727. www.protectowrap.com.