Portland's newly renovated Edith Green Wendell Wyatt (EGWW) Federal Building sets a new benchmark for the modernization of the mid-century concrete box. The 512,474-square-foot, 18-story tower, originally completed in 1974, went from energy hog to eco-showcase, becoming one of the most environmentally friendly buildings—new or old—in the General Service Administration's (GSA) portfolio. The keen focus on performance informed a fresh, airy aesthetic that immediately communicates sustainability.
Leading the design process, SERA Architects of Portland, Ore., in association with Cutler Anderson Architect of Bainbridge Isle, Wa., workshopped green strategies, and then spent three months analyzing the options with physical, virtual, and energy models to identify the most cost-effective. Funding from the American Recovery & Reinvestment Act (ARRA) paid for the comprehensive renovation, which took 39 months to complete. The improvements slash previous water and energy usage by a predicated 60 percent each, levels that exceed the conservation requirements of the Energy Independence & Security Act and reduce annual operating costs by up to $400,000.
The most radical change was replacing the uninsulated concrete façade with a high-performance, green-tinted curtainwall. Removing the façade's 3,337 tons of precast concrete (which was then crushed and reused as road bed) also reduced enough weight that costly seismic upgrades were no longer needed. Through parametric analysis, the architects fine-tuned the glass façade according to orientation through the use of elevation-specific shading and reflective elements—vertical aluminum "reeds" on the northwest façade and horizontal plates on the southwest and southeast—thereby reducing the need for electric lights and minimizing heating and cooling loads. A 180-kilowatt rooftop solar array provides 4 percent of the building's energy needs. Computer modeling predicts an overall energy use intensity of 30 to 35 kBtus per square foot per year, or 55 percent less than the Energy Star average for the average building of its type.
These load reductions made possible the prime energy conservation measure: a new radiant ceiling heating and cooling system. The new system will mean a $2 million reduction in lifecycle costs over the GSA's traditional Variable Air Volume system. Removing the old forced-air machinery and ducts also contributed to the reclamation of 33,000 square feet of new usable space .
The drastic water savings can be attributed to two main strategies: conservation methods and a rooftop canopy rainwater collection system. State-of-the-art plumbing fixtures reduce water usage throughout the building, while drought-resistant landscaping, and subsurface irrigation cuts exterior water use in half. The designers cleverly converted a basement firing range into a 165,000-gallon rainwater storage tank, which mitigates the negative effects of urban runoff while providing an alternate source for toilet-flushing, irrigation, and makeup water for the cooling tower.
This project proves an outdated office building can become an efficient, high-performance building without forcing austerity measures on the employees who work there. On the contrary, the interior work space throughout the building is greatly improved, from enhanced views to optimized daylighting, to the smells wafting from fragrant vines intentionally designed to flank the entrance.
Similarly, secondary benefits from this renovation will be compounded for years to come. The GSA's decision to maintain the current location—less than two blocks from Portland's bus mall and within walking distance of four light rail Max lines—means that 1,200 federal employees are not reliant on automobiles. With a possible combination of 283 rides per day, the building has a Transit Score of 92. Given its Walk Score rating of 97, the benefits should be felt on a personal level as well.
Click here to see all of the 2014 AIA COTE Top Ten Green Projects. Scroll down for more images, along with performance data and project team and materials information. Stay tuned for profiles of this year's winning firms on Ecobuildingpulse.com, along with additional coverage of this year's Top Ten in the Spring issue of ECOBUILDING Review.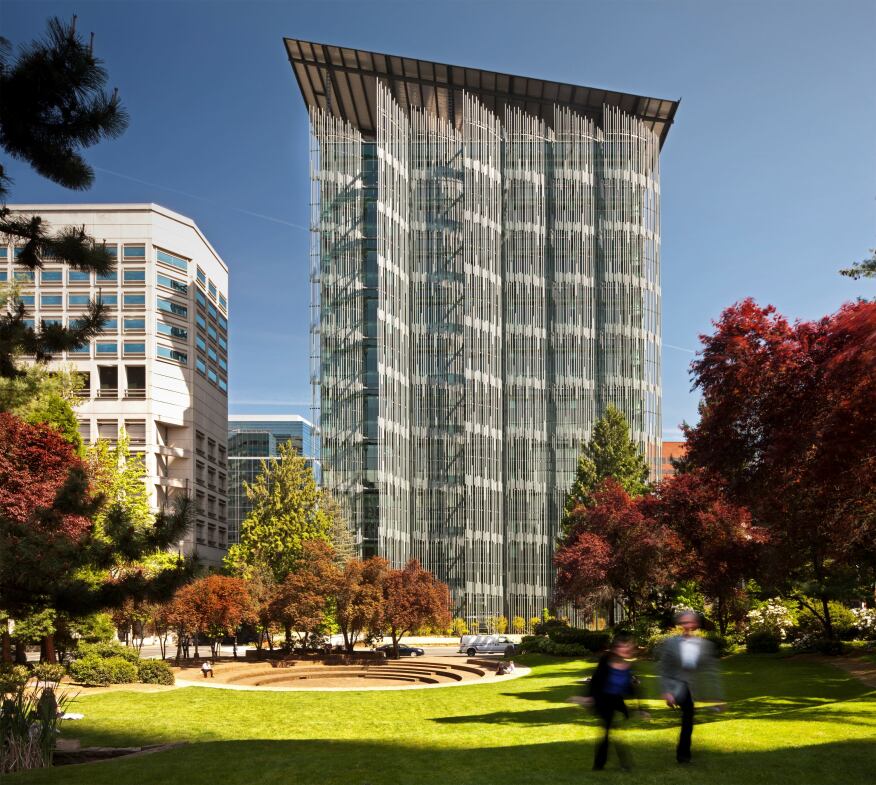 BY THE NUMBERS
Project completion date: May 2013
Building gross floor area: 512, 474 square feet
Estimated percent of occupants using public transit, cycling, or walking: 85
Daylighting at levels that allow lights to be off during daylight hours: 51
Lighting power density (watts per square foot): 0.60
Percent of views to the outdoors: 96
Percent of spaces within 15 feet of an operable window: 0
Percent reduction of regulated potable water: 61
Potable water used for irrigation: Yes
Percent of rainwater from maximum anticipated 24-hour, two-year storm event that can be managed on site: 90
Total EUI (kBtu per square foot per year): 30
Net EUI (kBtu per square foot per year): 29
Percent reduction from national median EUI for building type: 55
Third-party rating: LEED Platinum
Total project cost as time of completion (land excluded): $141.5 million
GREEN TEAM
Executive architect, interior designer: Sera Architects, serapdx.com
Design excellent architect: Cutler Anderson Architects, cutler-anderson.com
Client, owner, construction manager: U.S. General Services Administration, Northwest/Arctic Region 10
Electrical engineer, life-cycle analyst, mechanical engineer: Stantec Consulting, stantec.com
Civil engineer, structural engineer: KPFF, www.kpff.com
Landscape architect: Place Studio, place.la
General contractor: Howard S. Wright Constructors, howardswright.com
Lighting designer, green consultant, LEED consultant: SERA Architects, serapdx.com

MATERIALS
Alternative energy systems: Solar World, solarworld-usa.com
Building management systems and services: ESC Automation, escautomation.com
Carpet: Shaw Contract Group, shawcontractgroup.com
Resilient flooring: Johnsonite, johnsonite.com; Forbo, www.forboflooringna.com; Armstrong, armstrong.com; Nora, nora.com
Ceilings: Steel Armstrong, armstrong.com
Glass: Viracon, viracon.com
Interior lighting: Peerless, peerlesslighting.com; Focal Point, focalpointlights.com; Lithonia, Lithonia.com; Isolite, isolite.com; Vode, vode.com; Se'lux, selux.us; Sistemalux, sistemalux.com; Bega, bega-us.com; Hydrel, hydrel.com; Forms + Surfaces, forms-surfaces.com; Metalux, cooperindustries.com
Exterior lighting: BK Lighting, bklighting.com; Elliptipar, thelightingquotient.com; Advent, spilighting.com; Neoray, cooperindustries.com; Gotham, gothamlighting.acuitybrands.com; Winona, winonalighting.com; Prima, primalighting.com; Amerlux, amerlux.com
Millwork: Fuller Cabinets, fullcab.com
Paints and finishes: Rodda, roddapaint.com; Carboline, carboline.com; PPG, ppgpittsburghpaints.com
Plumbing and water systems: Kohler, kohler.com; American Standard, americanstandard-us.com
Roofing: American Hydrotech, hydrotechusa.com; AEP Span, aepspan.com
Structural systems: Alliance Industrial Group Inc., alliance-industrial.com; Liberty Steel, liberty-steel.com
Interior doors: Oregon Door, oregondoor.com; Stile Custom Metal Inc., stilesdoors.com
Tile: Stonepeak Ceramics, stonepeakceramics.com; Royal Mosa, mosa.nl; Design and Direct Source, designanddirectsource.com; Dal-Tile, daltile.com; Key Resin, keyresin.com
Data provided by AIA and SERA.