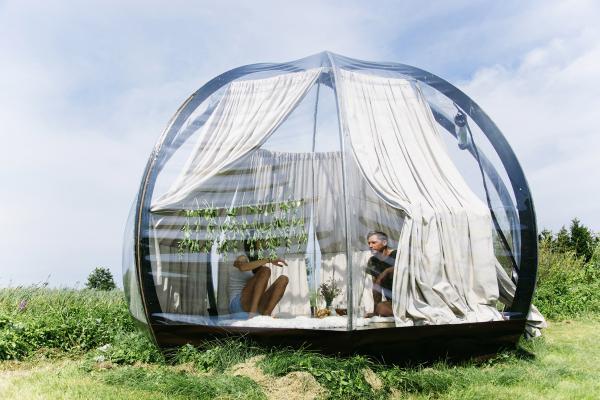 For those romantics who have dreamt of falling sleep under the light of a starry sky, here comes your coolest camping gear—"Oasis" is a portable transparent dome that allows you to experience the intimacy with nature without sacrificing safety, comfort, or privacy.
Feeling the need to be connected with nature, Lithuanian designer Vytautas Puzeras created Oasis as a temporary shelter when traveling in the wild. Being an avid traveler and kitesurfer himself, Puzeras dislikes the structure of traditional tents—enclosed, disconnected and uncomfortable. Oasis is his solution.
Arches in the dome are made from segmented veneer, a humidity-resistant material. Eco-friendly and rechargeable sun batteries are installed inside Oasis, making the dome completely energy independent. A double-layered bottom surface can be lifted up for storage, and a soft mattress and off-white curtains provide the comforts and privacy of home to those resting inside. Up to six people can easily fit in the dome.
The construction components of the dome can easily fit in a small trailer or a big car, but it take about half of a day to erect, one downside from the traditional tent.
It's for city people who love nature, travelers, lovers of sport activities, a solution for honey moon or just having good time next to the lake. It's like a very own and private space.
As of now, only one model of Oasis has been produced, as its stability and resistance in different circumstances is under test by the designer.
Please read more about this project on Llamas' Valley.