Adaptive reuse projects design new from old. What better place to start than crumbling ruins?
These five projects stay true to their surroundings by integrating the ruins they hide behind into the homes' architecture, but not without incorporating sustainable elements of passive design and green roofs.
1. House of Ruins by NRJA

Built inside the ruins of a 19th century Latvian stone barn, architects NRJA incorporates the ruins into design as barriers against winds from the Baltic Sea. The home is also built with energy-efficient appliances and lighting as well as passive solar walls.
2. E-C House by SAMI Arquitectos

Located in the North Atlantic Ocean, E-C House is built using lightly-toned concrete to contract against the dark, crumbling stone walls it's built between. Concrete's high thermal mass helps keep the home warmer in winter.
3. White House by WT Architecture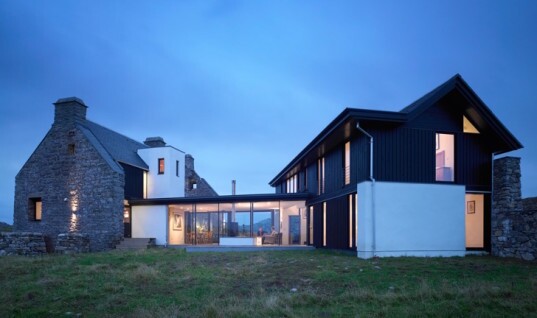 Built between Scottish ruins, White House is a testament to how green design is sometimes at its best without the sleek, glassy modern aesthetic of most LEED buildings. The home incorporates passive design strategies as well as a green roof. WT Architecture also designed the home to use locally sources the materials.
4. House in Linescio by Buchner Bründler Architekten

The Swiss studio that reconstructed House in Linescio preserved 200 year-old granite and wood facade by pouring a concrete shell layer-by-layer. Inside is now a modern, minimalist summer home.
5. Farmstead Next to the Chapel by Bergmeisterwolf Architekten
This modern home is constructed from a stone Italian farmstead. The architects reassembled a crumbling wall and incorporated modern elements with the stone for a contemporary design that fits in neatly with the surrounding environment. The home incorporates a green roof, adding even more to luscious landscape.
Find more projects built from and inside ruins and read more about these works on Inhabitat.