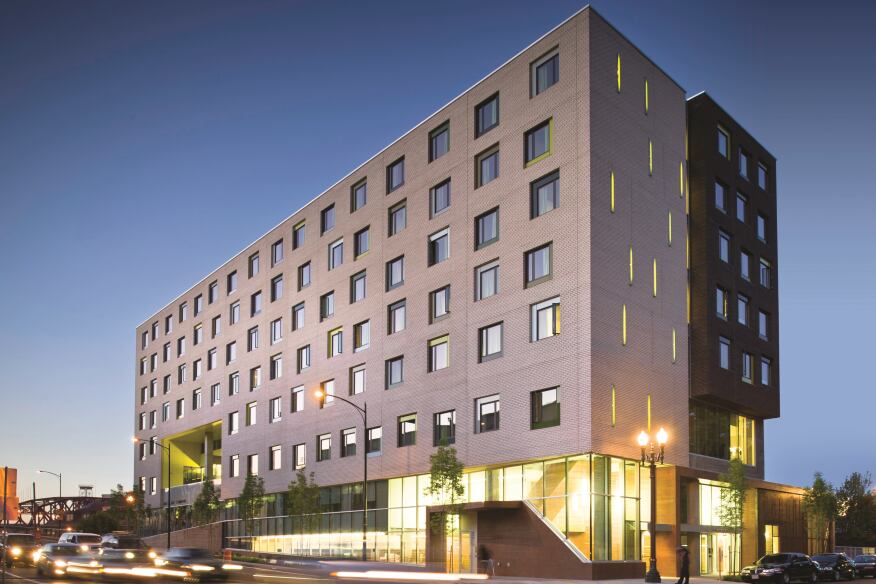 Continuing our coverage of the 2014 AIA COTE Top Ten green projects, this article is part of a series of 10 pieces that examine a specific, defining design challenge or innovation of each of this year's winners.
Sustainability is typically defined by the three aspects of environment, economy, and social equity. But the last of this trio, social equity, tends to be left out in the cold, especially when it comes to affordable housing. Plans for the Bud Clark Commons homeless center in Portland, Ore., however, gave social equity a prominent position in the design scheme. In fact, the project's high visibility at the edge of two city center districts brings a spotlight to the city's dedication to end homelessness.
Holst Architecture balanced a spectrum of separate services on the site and fostered community with spaces that promote dignity, safety, independence, and health. Extremely durable materials such as exposed concrete help the facility withstand intensive wear, and the use of wood, color, and texture help de-institutionalize the project. "We all deserve respect regardless of our situation," asserts Holst Architecture senior associate Dave Otte, AIA. "The design maintains a human scale with generous daylight and access to the outdoors—which is particularly important for people who have lived on the street for years—to create a healing, uplifting space."
A custom entrance gate made of recycled weathering steel and etched with inspirational quotes greets homeless citizens. Access to a day center via a landscaped courtyard provides a transitional buffer between the familiarity of outdoor street life and the safety and services indoors. The courtyard's bioswales and natural cedar elements offer respite from the harsh urban surroundings. Inside, long lines can develop while people wait for food, so the team created a wooden screen that obscures views from the adjacent street with a long attached bench to make the wait more comfortable and orderly.

A separate entrance on the sloping site leads to a second-floor open common space. Hundreds of people use this space every day as a springboard to services such as counseling, job training, showers, laundry facilities, mailboxes, and an art studio on the third floor. Expansive daylighting, wood, and green-hued furniture accents create a home-like atmosphere while open sight lines provide safety. Sleeping rooms serve 90 men, many of whom work at night and need to sleep during the day, so Holst placed these rooms below grade in a quieter, more private area.
The upper floors contain 130 studio apartments with their own street entrance that opens into a gracious lobby with wood walls and natural light—dramatically different than the locked gates and staff behind windowed walls typical in these facilities. Holst purposefully selected wood with knots and gaps in the grain so that the walls would remain attractive despite daily abuse. The apartments serve the most vulnerable homeless, many of whom suffer health issues, making air quality a prime concern. To control tuberculosis, the building's ducts pump in fresh air at three times the code-required minimum using displacement ventilation strategies. An energy-efficient heat-recovery system is supplemented with a UV-filtering system that destroys bacteria before the air is recirculated.
Lush outdoor courtyards strengthen healing connections to nature. Gardening classes allow residents to grow their own herbs and vegetables in patio planters, and this gardening area is now one of the facility's most vibrant spots. Tenants also learn about environmental sustainability through a visible rainwater collection system; a building-wide recycling program; housekeeping training on how to clean with natural products such as lemon, vinegar, and borax; and free supplies such as environmentally friendly cleaning products and energy-efficient replacement light bulbs.
Otte says the city's commitment and investment have made Bud Clark Commons a consummate success. In its first year, more than 7,000 homeless people were served at the facility's day center and kitchen; 3,600 individuals received connection to social services; and 350 individuals were assigned to permanent housing placements.
Click here to access our full coverage of the 2014 AIA COTE Top Ten Green Projects, including more information on each project, additional images, and exclusive Q&As with each winning firm.