At almost 200,000 square feet, the University of Baltimore's John & Frances Angelos Law Center demonstrates innovative solutions for green building at a larger scale. Taking a cue from recent trends in workplace architecture, Behnisch Architekten and Ayers Saint Gross incorporated a generous amount of flexible work-lounge-meeting-café space in addition to designated spaces such as classrooms, offices, a library, and a 300-seat practice courtroom.
What ties together the 12-story law school is the central atrium—a towering, narrow "green stalk" that is crucial to both the technical and the social performance of the building. For one thing, the cascading stairs, ramps, and landings, all furnished with casual seating and tables, encourage chance encounters and interaction among the building's roughly 875 occupants. For another, the naturally lit atrium plays an important role in the building's air circulation system. When the outdoor temperature is mild enough for natural ventilation, a computer automatically opens the windows in the atrium's glass curtainwall and activates exhaust fans at low speed to push air outside. At the same time, green indicator lights appear at the windows in the offices, classrooms, and library, signaling to occupants nearby to open them. As these windows are opened, fresh air is pulled through the atrium to create a gentle cross-breeze through the boxy building.
When outdoor conditions are not favorable for this, a low-volume mechanical air exchange system with a heat-recovery enthalpy wheel kicks in. Finally, during the extremes of summer heat and winter cold, the two-mode ventilation system is combined with a radiant heating and cooling system of hydronic tubing embedded within the thermally massive, 11-inch-deep concrete structural slab. Vertical acoustic baffles hung from the classroom ceilings do not impede the slab's cooling action.
To control daylight, Behnisch and Ayers Saint Gross developed three façade types, corresponding to the three main program blocks. In the first type, offices and classrooms are clad with a unitized curtainwall composed of alternating panels of solid aluminum and transparent glass, some of which contain operable windows. Automated exterior blinds shield the glazing from solar heat gain, and the blinds are protected from the elements by a frameless glass screen wall. The top third of the glass panels, however, is left transparent at all times, forming a kind of clerestory.
The second façade type, which wraps the library, consists of alternating bands of fritted glass. It gives the upper stories a "woven" surface effect. Half of the panels are fully coated with ceramic frits to the point of opacity, while the others have a gradient pattern that varies in height by one half-floor every other window. Seventy percent of the glazed surface area is coated with the reflective ceramic frits.
The third type of façade is the transparent curtainwall of the atrium, which is shaded along the south and west exposures by external fixed louvers. The atrium's diffuse daylight reaches into classrooms that overlook the atrium, separated only by transparent glazing.
The law school, replacing a former parking lot on the site, now boasts zero rainwater runoff, contributing to its expected LEED Platinum rating. Its planted roof terraces collect and filter the rain, and then reuse it to flush the toilets and irrigate the interior gardens. LED lighting, used throughout the building, appears most dramatically in the atrium, where over 70 custom-designed LED "butterfly" chandeliers adorn the entrance lobby.
Click here to see all of the 2014 AIA COTE Top Ten Green Projects. Scroll down for more images, along with performance data and project team and materials information. Stay tuned for profiles of this year's winning firms on Ecobuildingpulse.com, along with additional coverage of this year's Top Ten in the Spring issue of ECOBUILDING Review.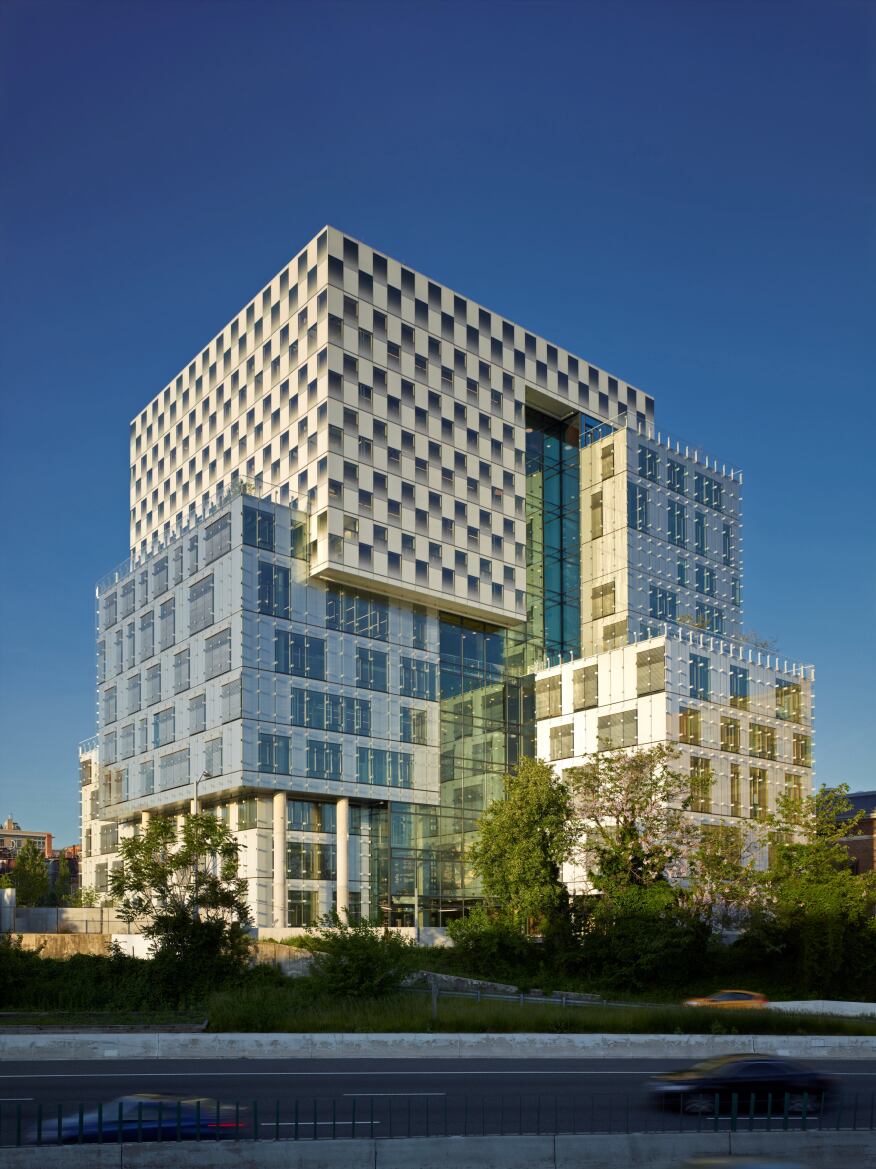 BY THE NUMBERS
Project completion date: April 2013
Building gross floor area: 192,000
Estimated percent of occupants using public transit, cycling, or walking: 77
Daylighting at levels that allow lights to be off during daylight hours: 39
Lighting power density (watts per square foot): 1.00
Percent of views to the outdoors: 90
Percent of spaces within 15 feet of an operable window: 38
Percent reduction of regulated potable water: 47
Potable water used for irrigation: No
Percent of rainwater from maximum anticipated 24-hour, two-year storm event that can be managed on site: 57
Total EUI (kBtu per square foot per year): 40
Net EUI (kBtu per square foot per year): 40
Percent reduction from national median EUI for building type: 100
Third-party rating: LEED Platinum (certification pending)
Total project cost as time of completion (land excluded): $114.3 million
GREEN TEAM
Architect: Behnisch Architekten, behnisch.com; Ayers Saint Gross, asg-architects.com
Client, owner: University of Baltimore, ubalt.edu
Electrical engineer, life-cycle analyst, mechanical engineer: Diversified Engineering, diveng.com (Electrical); Mueller Associates, muellerassoc.com (Mechanical)
Structural engineer: Cagley & Associates Engineering, cagley.com
Construction manager, general contractor: The Whiting Turner Contracting Group, whiting-turner.com
Lighting designer: MCLA Lighting Design, mcla-inc.com
Green consultant, LEED consultant: TRANSSOLAR, www.transsolar.com
MATERIALS
Acoustical system: Tectum, tectum.com; AVL Acoustical Panels, avlonline.com
Building management systems and services: Schneider Electric, schneider-electric.com; Window Master, windowmaster.com; Hunter Douglas, hunterdouglascontract.com; Embedia Technologies, www.embedia.com
Carpet: Patcraft, patcraft.com
Curtainwalls, glazing: Interbond USA
Exterior wall systems: National Enclosure Company, nationalenclosure.com; PPG Industries, ppg.com
Flooring: Armstrong, armstrong.com; Ashford Formula, ashfordformula.com
Furnishings: Rolf Benz, rolf-benz.com; VS, vs.de; Fritz Hansen, fritzhansen.com; Spacesaver, spacesaver.com; Humanscale, humanscale.com
Glass: Pioneer Cladding & Glazing Systems, pioneerglazing.com
HVAC: J.F. Fischer Inc., jffischer.com
Lighting control systems: Lutron, lutron.com
Lighting: Zumtobel, www.zumtobel.us; Nimbus, nimbus-group.com; Lighting Services, Inc, lightingservicesinc.com; Vode, vode.com; Optolum, optolum.com; Eureka, eurekalighting.com; BK Lighting, bklighting.com; Bega, bega-us.com; IP44, ip44.de; Iguzzini, iguzzini.com
Masonry, concrete and stone: Schuster Concrete Construction, schusterconcrete.com
Millwork: Mid Canada Millwork, midcanadamillwork.com
Paints and finishes: Benjamin Moore, benjaminmoore.com; PPG, ppg.com
Plumbing and water systems: Syncroflo, syncroflo.com; Sloan, sloanvalve.com
Signage: Intersign, intersignnational.com
Windows and doors: YKK, ykkap.com; Dawson Doors, dawsondoors.com
Elevators: Kone, kone.com
Skylights: United Skys, unitedskys.com
Data provided by AIA and Behnisch Architekten.