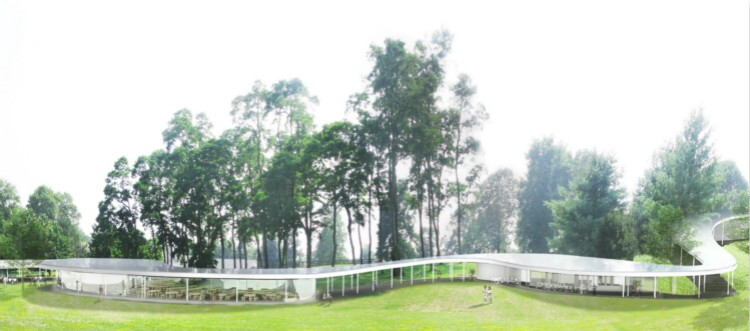 A sinuous building imitating the shape of a river has nestled into Grace Farms in New Canaan, Conn., and will be open to public shortly on Oct. 9.
The River Building, made of glass, concrete, steel and wood, is designed by Tokyo, Japan-based architectural firm SANAA. Following the rises and falls of the farm landscape, the building covers a 28,128-square feet lot with its long walkaways, spacious courtyards and glass-wrapped volumes.
Beneath a continuous roof, there is a sanctuary, staffed library, welcome center, dining room and multi-functional court, which could be used as a gym, media lab or game room. These glass volumes spread out on the site in no particular order, forming different views for people in every room. Few boundaries are set between the interior and exterior, creating an open atmosphere.
"One of the most compelling things about SANAA is the way they use glass to break down barriers between people. Using glass in this way helps redefine how people share spaces," said Sharon Prince, president Grace Farms Foundation, in a statement.
SANAA was retained by Grace Farm Foundation shortly before its two architects, Kazuyo Sejima and Ryue Nishizawa, won the Pritzker Prize in 2010. Construction of the project takes two years since its groundbreaking in 2013. The design team hoped to foster a sense of community with its River Building, making it a place that "invites people from all walks of life into a space of comfort."
The River Building is LEED-certified, and uses trees that were previously cleared for construction of indoor and outdoor furniture.
SANAA's other work in the U.S. includes New York's New Museum of Contemporary Art, and the Glass Pavilion at the Toledo Museum of Art in Toledo, Ohio.