If there's an organization that should be headquartered in one of the most sustainable buildings in the United States, it's the Rocky Mountain Institute (RMI), the Colorado-based nonprofit founded in 1982 and led by the energy efficiency guru Amory Lovins. Often called a "think-and-do tank," RMI works with corporate and government clients on resource-saving strategies. Long before LEED, RMI was preaching the virtues of passive solar energy and thick insulating walls. More recently, in 2009, the institute helped spearhead a $550 million "deep retrofit" of the Empire State Building, which included converting every one of the skyscraper's 6,514 double-hung windows to superinsulated glass units.
In 1984, Lovins, now 68, famously designed and built a superefficient house in Snowmass, Colo., that became a model for low- and high-tech energy solutions. At the time, Mother Earth News gushed about the house's argon gas–filled double-glazed windows and low-flow Ifö Cascade toilet. Lovins and his then-wife, Hunter, RMI's co-founder, lived there, and for many years the building also served as the headquarters for the institute, which had about a dozen employees.
But after the nonprofit expanded, it moved into a 1950s ranch house on a nearby property owned by the Windstar Foundation, an environmental philanthropy founded by the late singer John Denver. RMI intended to build a new headquarters on the Windstar property, but when those plans fell through, the institute worked out a deal with the nearby town of Basalt, Colo., which was looking to develop a prime site overlooking the Roaring Fork River. Cara Carmichael, a manager in the buildings practice at RMI's Boulder, Colo., office, which opened in 2004, says the Windstar house had undergone some remodeling, "but it just wasn't meeting our needs. It was leaky. Not very well insulated at all. Definitely not sustainable."
Finally, RMI has a headquarters worthy of its mission. In January, the organization—which today has more than 140 employees in offices around the country and in China—moved into the new LEED Platinum and net-positive-anticipated RMI Innovation Center in downtown Basalt. (The posh resort town of Aspen is 18 miles to the east on Highway 82.) Designed by Portland, Ore.–based ZGF Architects, the building is meant to be both a comfortable office space for up to 50 RMI employees (about 25 work there now) and a showcase for sustainable design practices.
According to RMI, it's the most energy-efficient building located in North America's coldest climate zone, and uses 74 percent less energy than similar office buildings in the zone. Remarkably, there's only a small heating system—in the form of targeted electric floor mats, meant to be used only on the coldest days of the year, and whose collective output is equivalent to roughly 16 hairdryers—and no cooling system at all. Not bad for a project that sits at nearly 7,000 feet above sea level, where the average low temperature in January is about 4 F. "It's extremely rare for an office building not to have a central heating system," Carmichael says, "especially in this climate."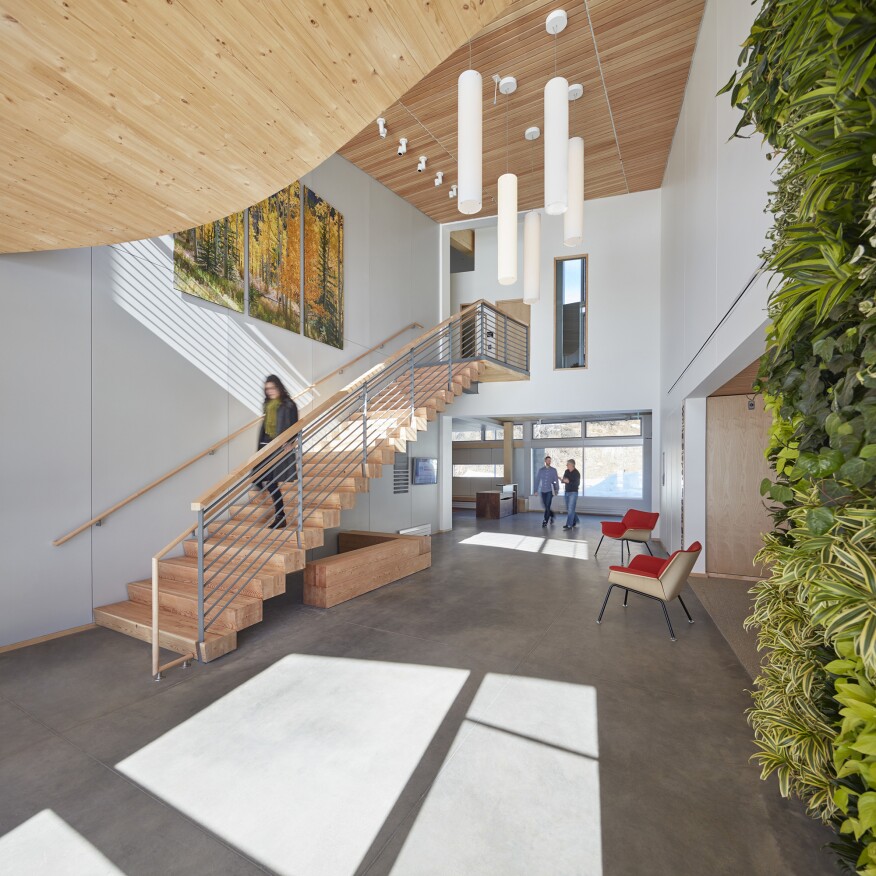 ZGF partner Kathy Berg, AIA, says Lovins and his RMI colleagues tested the architects' limits. "That was exciting," she says, "because a lot of times we end up trying to encourage our clients to move in the direction of sustainability. Here was a client saying things like, 'Have you ever designed a building without any mechanical system?' The answer was, 'No.' "
Berg's colleague Justin Brooks, lead designer on the project, recalls ZGF's first meeting with Lovins, who began by asking several questions about building refrigeration and the R-value of glass. "We knew that this was somebody who was going to be pushing us on the technical side," Brooks says.
The two-story, 15,600-square-foot building takes full advantage of Colorado's intense sun with an 83-kilowatt photovoltaic system on the roof, which provides enough energy for the structure plus five electric vehicles. (There's also a 40-kilowatt battery storage system that reduces the building's peak-energy demand.) Large south-facing windows allow passive solar gain in cooler months, while an automated sunshade system helps regulate heat gain in the summer.
None of this would matter, of course, if the building weren't superinsulated. RMI opted for aggressive levels: R-50 for the walls and R-70 for the roof (which is made of 12-inch-thick structural insulated panels). Windows are quad pane and filled with krypton gas. "It has an incredibly tight building envelope," says Carmichael, who served as the project manager.
Indeed, according to the Passive House Institute U.S., the building has one of the lowest air-leakage values ever recorded in the country. That helps the structure retain heat in the winter months, but in the summer, when daytime temperatures reach into the 90s, some windows open automatically at night to bring in cool air. (Basalt is blessed with low humidity and cool summer nights.) In addition, a resin-based phase-changing gel in the walls keeps the building comfortable in the summer by absorbing the cold at night and releasing it during the day.
Office buildings typically have an air-temperature range of 68 F to 76 F and HVAC systems that are designed to condition the entire volume of air in a room, including the space above people's heads, an obvious waste of energy. RMI took a completely different approach, opting for an expanded temperature range—64 F to 82 F.
The design team considered a host of factors that affect personal comfort: interior air speed, humidity, employee clothing and activity levels, and radiant surface temperatures. The architects virtually eliminated the cold air that radiates from poorly insulated walls and windows, for instance. And RMI gave employees much greater control over their own comfort (all the various factors are calculated and monitored by an online "thermal comfort tool"). On winter days, they are likely to be wearing sweaters or fleece. In the summer, some will opt for shorts and short-sleeve shirts. (It helps that RMI has a casual office culture.) Because workers are not tethered to specific desks or cubicles, they can move to different parts of the building depending on where they're most comfortable. An employee who tends to get cold might opt for a spot close to the south-facing windows.
Then there's the Hyperchair. Invented at the University of California, Berkeley's Center for the Built Environment and now being marketed by engineer (and RMI fellow) Peter Rumsey, it looks like an ordinary black office chair, but it has a built-in heating element (like a seat in a luxury car) and fans, which can be controlled by the user. The chairs are battery powered and use a fraction of the energy of, say, a space heater. RMI ordered 70 Hyperchairs for the building (at $1,900 a pop, they aren't exactly cheap, but the institute enjoyed a discount). "Instead of heating and cooling the entire building," Berg says, "we're heating and cooling the people inside the building."
Lovins made it clear that he was looking for more than just a science experiment, however. He wanted a beautiful building. Berg recalls a meeting where Lovins pronounced, sage-like, "This building will create delight when entered, health and productivity when occupied, and regret when departed." The architects took Lovins' entreaty to heart. Brooks says he wanted the structure to "feel almost as if it grew from the ground." For the exterior, he chose a combination of Colorado sandstone, zinc panels, and untreated juniper wood. Enchanted by the local geology, in particular the way falling snow tends to get captured by rock outcroppings and cliffs, he designed battered and textured sandstone walls to create the same effect. On the north side, the walls are broken up by narrow, vertical windows, evoking a jagged mountain range.
Inside, Brooks worked with a similarly earthy palette of materials: concrete floors, locally sourced beetle-kill lumber, and cross-laminated timber panels. The ground floor has some office space, but it's largely designed to accommodate meetings and seminars for visiting clients and researchers. Most of the second floor is an open-plan office area, but there's also a reading room, a conference room, and a corner office (complete with walls and a door) for Lovins.
From the outset, RMI has said the story of the new building is as important as the building itself—meaning that the organization wants to inspire other business owners, developers, and architects to build similar, energy-efficient small office buildings. It's a common building type, says RMI's Carmichael: 90 percent of U.S. commercial office buildings are less than 25,000 square feet. The institute spent $13.67 million on its new headquarters, she says, only about 10 percent more than the cost to build a more conventional structure on the same site without any net-zero features or premium-grade finishes. But because of the money RMI will save on energy and maintenance costs, as well as the increase in employee productivity, the payback will take just four years. "That's a pretty compelling story," Carmichael says. "Net zero isn't that much more expensive to do."
The institute also hopes others will embrace the Integrated Project Delivery approach it used. The nonprofit, ZGF, and the general contractor signed an agreement that included common goals and financial incentives for achieving them on time and on budget. "We're still going through the numbers," Carmichael says, "but it's looking very positive."
"We think this building can really inform the industry," Carmichael says. "Not that we want to see 100,000 buildings just like this everywhere. That would miss the point of what we're trying to do. We designed it for this particular location and climate. If you picked it up and moved it to Florida, it wouldn't work. But we hope to inspire people to put the same thought and care into designing their own sustainable office buildings."
This article was originally featured on our sister site, ARCHITECT >>